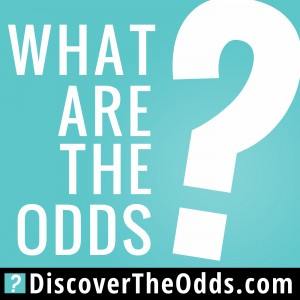 Have you ever asked yourself, "What are the odds?" Brishette Mendoza hosts this fun and engaging podcast for anyone interested in this classic question as it applies to a variety of everyday topics, social issues and fascinating oddities. Areas of exploration include science, health, travel, crime, politics, education, economics and more.
Subscribe to the "What are the Odds?" podcast in the iTunes store or here at DiscoverTheOdds.com for fresh, new and entertaining explorations of this classic question.

Podcast: Play in new window | Download
Episode 1: Introducing The "What Are The Odds?" Podcast – Show Transcript
Hello and welcome to the first episode of the "What Are the Odds?" Podcast, the Official Podcast of the Website, DiscoverTheOdds.Com, the best place to go to find the answers to all those questions that begin with the words, "What are the odds….?" I'm  Brishette Mendoza and I am the host of this podcast. Thanks for joining me. First off, let me tell you, I really hope that you'll be entertained by this weekly podcast and the amazing information on the DiscoverTheOdds.com website. Over the course of future episodes of this podcast, I'm gonna talk about questions that are interesting to me and questions that you may have thought about too. So we'll explore a variety of topics, some that will make you laugh, some that will make you cry, some that will even make you think, and some that are, honestly, just about as quirky as I am.
We'll take a look at everything, from classic questions such as, "What are the odds of being struck by lightning?" "What are the odds of winning the lottery?" "What are the odds of finding life on another planet?" to questions related to topics in the news "What are the odds of contracting West Nile virus?" Questions that may hit home for you, "If you're unemployed today, what are the odds that you'll find a job?" "If you're single, what are the odds that you'll finally meet that special someone?" "If you're vacationing in Mexico, what are the odds that you'll land in the crossfire of a drug cartel?" Even questions from politics, "What are the odds that your candidate will win the upcoming election?" We'll also step back a little to ask "Do people ever get the math wrong?" "What about beating the odds?" And "What difference do the odds make in the first place?" So join me for the next episode of "What are the Odds?"